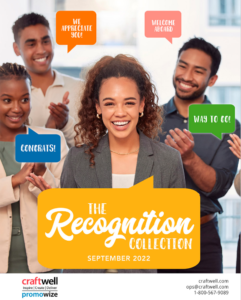 Recognition Ideas
Employee recognition is important because it boosts morale, increases productivity, and builds positive relationships. Praising employees for their achievements reinforces quality performance—benefitting both the staff and the organization.
When employees feel appreciated, they put in more effort, are more engaged and, in turn, are happier.
According to the Society for Human Resource Management, 79% of employees work harder due to recognition in the workplace.
Emphasizing strong work performance can be the difference between a content employee and one who goes above and beyond.
Employees who go the extra mile make employee recognition highly beneficial to co-employees and the organization.
Increase Productivity and Profitability
Build Connections Among Team Members
Strengthen Core Values
Reduce Employee Stress
Visit Our Recognition Idea Book